532nm DPSS Laser, 70mW Turn-Key Module, Narrow Linewidth
- SM Fiber-Coupled Output
- PowerBox Controller Included
$7980.00 Ships: Request current lead time | Model RLS/DPSS-532NM-70MW-FC
Key Features
Single Mode 532nm DPSS Laser Module
Adjustable Ex-Fiber Output Power up to 70mW
Ultra-Narrow Linewidth: < 0.1 nm (FWHM)
Single-Mode Fiber Patch Cord Standard
Includes PowerBox Power Supply, USB Interface and Control Software for Fast Simple Set-Up
Offered by RGB Photonics, a Laser Lab Source Marketplace Seller

Sold & Supported in North America by: LaserDiodeSource.com, part of the Laser Lab Source Marketplace Group
Price and Delivery Quote
You will receive factory-direct price with no mark-ups
Technical Questions for this Product
ASK AN ENGINEER
Questions route directly to the correct Product Engineer
Add to Cart or Buy Now
Customers Also Considered:
MODEL
RLS/DPSS-532NM-70MW-FC
PRICE
$7980.00
Laser Output Specifications

Wavelength: 532 nm, ± 1 nm
Output Power: 70 mW ex-Fiber
Ultra-Narrow Linewidth: < 0.1 nm (FWHM)
Linear Polarization: > 10:1
Noise: < 0.3 % RMS
Power Stability: < 3 % (8 hours)
Warm-up Time: 5 seconds
Fiber: Single-Mode, 3.3 µm Core
Connector: FC/APC, 8º Angled

GENERAL SPECIFICATIONS

Dimensions: 63.5 × 31.0 × 32.5 mm (laser head)
Dimensions: 98.6 x 31.0 × 32.5 mm (w/ PowerBox Power Supply)
Weight 94 g (laser head)
Operating Temperature: 0 °C to 45 °C (non-condensing)
Storage Temperature: -25 °C to 70 °C
CDRH Classification 3b
Product Overview:
532nm, 70mW DPSS Laser Module Overview
These high stability, compact 532nm DPSS green lasers deliver up to 70 mW of low noise output power at a narrow spectral linewidth. These modules are designed for demanding applications that require both high stability and excellent beam quality. They offer user adjustable output power, a USB interface (RS232 optional) and control software. The standard model provides up to 70 mW ex-fiber output power; other maximum output powers from are available.


Small Footprint for Integration into OEM Product or into your R&D Laboratory Set-Up
The design and small footprint are optimized to provide easy integration into OEM systems or into a lab R&D set-up. The PowerBox power supply module is included in the purchase price. It connects directly into the back of the laser head through a d-Sub connector. These lasers have a wide range of options including a mechanical shutter and a fiber coupled output adapter.


Simple Set-Up and Complete Control using Graphical User Interface / Ltune Software
All operating parameters can be set, monitored and controlled from your PC using the Ltune laser control software for Windows. A simple to use graphical interface allows you to adjust the laser power, the temperature and all configuration parameters. Alternatively, the laser can easily be controlled from your own application software. Please request the Operating Manual for a detailed description of the communication protocol.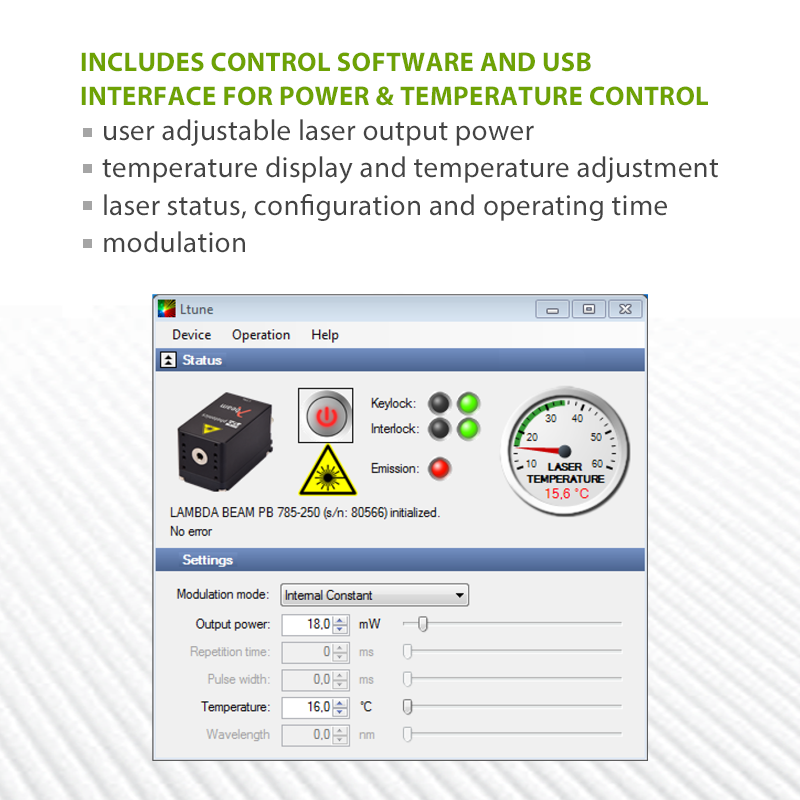 High Stability through Precision TEC Based Temperature Control and Low Noise Control Electronics
The active temperature control loop ensures very high short and long term stability, and careful component selection and low noise control electronics enable a low noise laser output.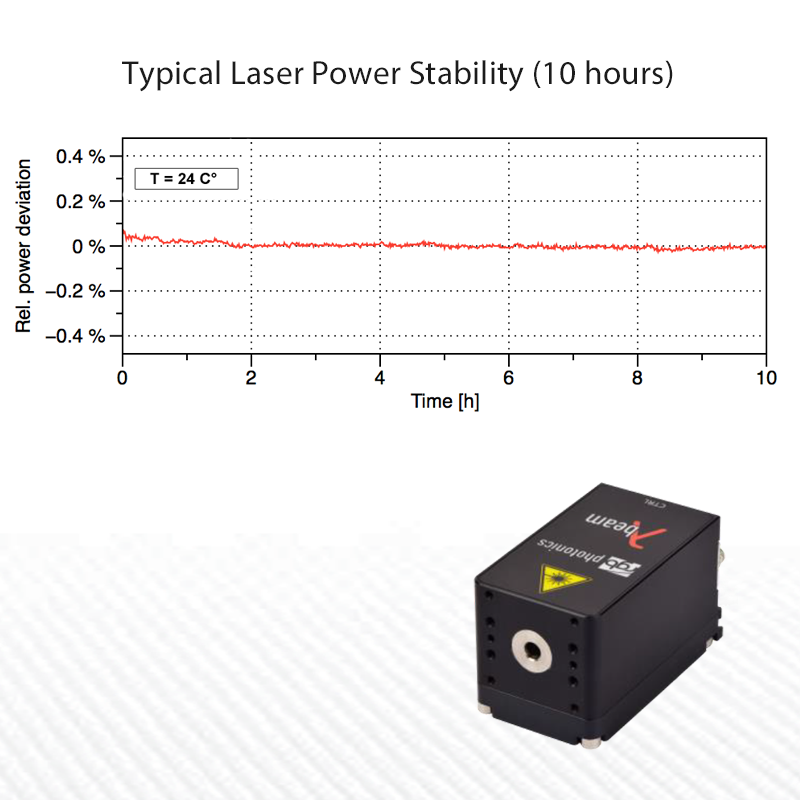 Why do Scientists & Engineers Choose Laser Lab Source?
Get DIRECT, Fast Tech-Support from the Product Engineer, No Sales Person in the Middle

Get the Lowest Price, Factory Direct, No Mark-Up's, Suppliers Post their Own Price

Get a 30 Day Evaluation Period with No Risk Return on Most Products, Check Availability